Call Toll Free:
(866) 432-2368
October 1st, 2009 - Culver City, CA
Introducing the New Counselor's EZ-View Dashboard in MyCaseRecords Case Management System
Stay Organized with Counselor's EZ-View Dashboard
MyCaseRecords's innovative Counselor's EZ-ViewTM Dashboard delivers instant access to all of your daily activities, to-do lists and schedule at a glance.
No more missed appointments, neglected activities or forgotten tasks - this new functionality is included in MyCaseRecords's industry leading solution to equip your success for the long haul. Key areas are displayed on the Counselor's EZ-View Dashboard to allow you to fully manage your daily routines using the power of data; and best of all, it's just a click away in MyCaseRecords

Instantly view all of your key activities , to-do lists & schedule

Drill down for detailed information and data

Easily identify potential trouble areas, before they becomes a problem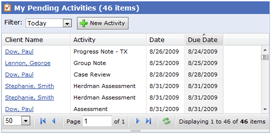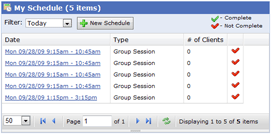 MyCaseRecords - How business gets done in the 21st Century.
Industry challenges are requiring addiction professionals to identify new and better ways to drive their organizations to higher levels of efficiency and superior client care. Staying organized using the electronic tools & documents is the most logical and proven way to stay ahead of the curve.
MyCaseRecords is the fastest growing case management solution for Substance Abuse Professionals. Isn't it time that you learned why? Test-drive MyCaseRecords with our FREE, no-obligations 30-Day trial. If you decide to continue using MyCaseRecords after the free trial period, as a CAADAC member in good standing, you will receive discounts of up to 60% off.
MyCaseRecords is web based practice management software for substance abuse counselors and other behavioral health professionals. MyCaseRecords case management system assists in increasing operational efficiency of drug rehabilitation centers and other substance abuse facilities. Features include automation of treatment plans & notes, workflow & document management.